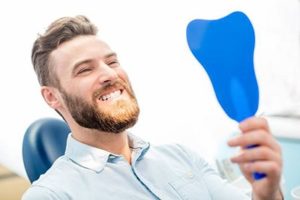 If you've lost a tooth, your confidence was probably lost along with it. If you're embarrassed by your smile, a dental implant can fill the gap. You don't have to worry about it standing out from your natural teeth. It will blend in with your smile, so only a trained dental professional will know it is there. You won't have to think twice before showing your pearly whites.
Complications of Tooth Loss
Tooth loss is more than an aesthetic issue. Every tooth plays an important role in your oral health. Losing a single tooth causes your jawbone to shrink because it's not being stimulated by the root.
You can lose up to 25% of your jaw's density within the first year, which will continue to deteriorate as time passes. Your remaining teeth won't have sufficient support, causing them to shift. Not only can this affect your bite, but it also increases your risk of cavities, gum disease, and additional missing teeth. Your facial shape will change from bone loss, which can make you look years older than your true age.
How Dental Implants Work
A dental implant is the only treatment to recreate the root and the crown of a tooth. An implant post is inserted into the jaw to mimic a root. It will stimulate bone growth to keep your jaw healthy.
Your bone will fuse to it through a process called osseointegration. A custom-made restoration is attached to the post using an abutment. Your new tooth will look natural for seamless results.
Benefits of Dental Implants
Dental implants offer exceptional benefits that aren't possible using any other method, including:
Look Natural: The implant post will be hidden below your gum tissue and your restoration will be made of all-ceramic material to match the color, size, and shape of your real teeth. It will look just like a natural tooth.
Feel Natural: Your implant will have the support of your jaw to restore up to 70% of your natural biting force.
Look Younger: Treating tooth loss can make you look 10 years younger. A dental implant can turn back the clock even more because it stops bone loss to maintain your facial structure.
High Success Rate: Dental implants have over a 95% success rate with the right care, like brushing and flossing.
Better Oral Health: Keeping your jaw healthy will ensure your remaining teeth have the support they need. Dental implants will keep preventable issues at bay to lessen the likelihood of meeting costly procedures later. You'll preserve your natural smile and lower your overall oral health expenses.
Long Lifespan: Dental implants are proven to last for 30 years or more with the right maintenance, like good oral hygiene at home and regular care from a dentist.
You will never feel embarrassed by your smile again. Dental implants are the next best thing to your real teeth.
About Dr. Eduardo R. Lorenzana
Dr. Lorenzana earned his dental degree at the Baylor College of Dentistry and continued his education to earn his Certificate in Periodontics and a Master's in Oral Biology. He regularly pursues continuing education to provide the most up-to-date services, like dental implants. If you're ready to replace your missing teeth, request an appointment through our website or call (210) 942-8585.