Meet The Periodontal Team – San Antonio, TX
We're Happy to Help You Smile
At Lorenzana Periodontics, our dedicated team takes exceptional care to the next level. Whether you're just calling to schedule an appointment or you're undergoing complex periodontal treatment, you can count on our team members to help you feel right at home, comfortable, and welcome throughout your entire interaction with us. We can't wait to meet you, but you can get to know us before you arrive by reading the information below.
Samantha - Office Manager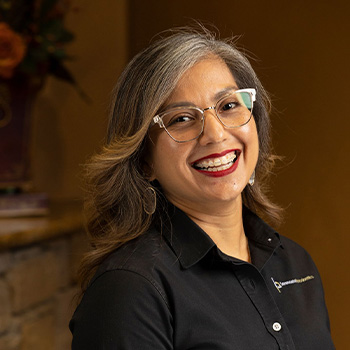 Originally from Corpus Christi, Samantha has been part of our team for two full decades now. She studied at Southwest Texas State University and Del Mar College. In addition to her managerial expertise, she is a Registered Dental Assistant with CPR certification. Today, what she enjoys most about her job is getting to interact so closely with the wonderful patients!
At home, Samantha is happily married with two adult children and three dogs. When she isn't busy at work, her top priorities are spending quality time with her family, running full/half marathons, traveling, cooking, fishing, playing with her dogs, and lounging at the beach.
Zoela - Treatment Coordinator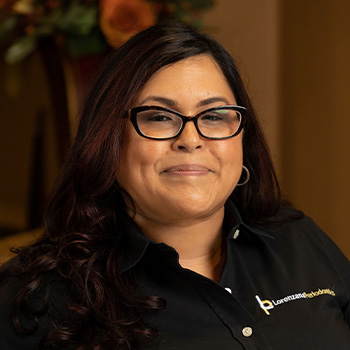 Zoela originally hails from Melbourne, FL, and she's been working in dentistry for over seven years now. Her favorite part of this job is that every member of the team shares the same vision and dedication! There's a wonderful family environment here, and everyone supports each other on a daily basis.
Zoela and her wonderful husband Joshua have three beautiful, extraordinary children – twin daughters named Ilyonah and Sarina, and another daughter named Zoe. Outside of work, her passion lies with rescuing dogs. She currently has four pups of her own and is constantly helping others find new homes. Her family also owns a seasonal Halloween store!
Stacy L. - Front Desk Administrator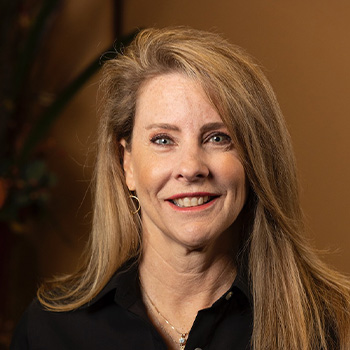 Stacy earned her Bachelor of Business Administration in Accounting from Southern Methodist University. Today, she has worked in accounting for over 15 years and is thrilled to have recently transitioned to the family business, partnering with her husband Dr. Eduardo Lorenzana. She loves getting to spend time with the wonderful family they have in their staff too.
Stacy and her husband first met in their freshman year of college, and they now have two sons named Brandon and Zack. In her spare time, she really enjoys participating in sports of almost any kind, especially running. She has done several marathons so far and last year, completed her first Ultra (50K) Trail Marathon!
Cruz - Surgical Assistant RDA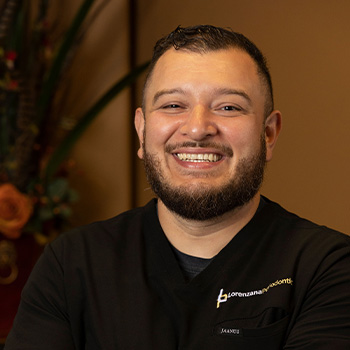 Cruz has been a part of our team for nearly 20 years so far! A San Antonio native, he loves meeting new people through his job and helping them smile with newfound confidence.
At home, Cruz has a wife and two kids. His daughter is currently studying education at UTSA, while his son is serving in the United States Navy. In his free time, he enjoys working with his hands on various automotive and DIY projects.
Regina ("Reggie") - Registered Dental Hygienist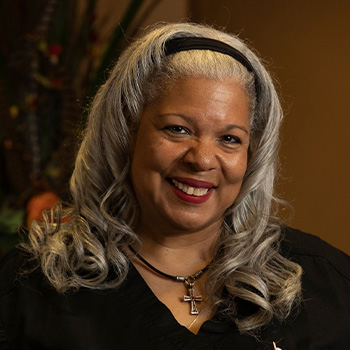 Reggie studied dental hygiene at The University of Texas Health Science Center of San Antonio. Today, she has been working in dentistry for over 25 years. In addition to her hygiene expertise, she is a certified pharmacy technician with additional training in radiology, dental sealants, nitrous oxide monitoring, and CPR. With great pride, she served her country with the United States Navy & Reserve as a Hospital Corpsman during Operations Desserts Shield and Storm. Today, what she enjoys most about her role here at Dr. Lorenzana's office is being able to make a positive difference in a person's health, mind, and body.
A San Antonio native, Reggie is married with three young adult children. In her spare time, she enjoys swimming, walking, cycling, traveling, gardening, and being with her loved ones. She is an active member of the Antioch Missionary Baptist Church and has completed plenty of half-marathons. She also loves playing with her four dogs, who are named Louie Bear, Maddie Girl, Coco, and Tiny.
Carol
Bio Coming Soon!