All-On-4 & Pro Arch Dental Implants – San Antonio, TX
Renew Your Smile
in a Single Visit
With the All-On-4 or next-generation Pro Arch procedures, Dr. Lorenzana can literally give a patient a full row of new teeth in a single appointment. Sound too good to be true? It isn't! If you're tired of dealing with missing and failing teeth or an uncomfortable, unreliable denture, Dr. Lorenzana can effectively give your smile new life in just one office visit. Want to learn more? To schedule a consultation to see if All-On-4 and Pro Arch dental implants in San Antonio, TX would be right for you, give us a call today.
Why Choose Lorenzana Periodontics
for All-On-4 & Pro Arch Dental Implants?
Replace An Entire Row of Teeth in Just One Appointment
Board-Certified Periodontist & Implant Specialist with Decades of Experience
World-Class Care that is Designed Just For You
How Do All-On-4/Pro Arch Dental Implants Work?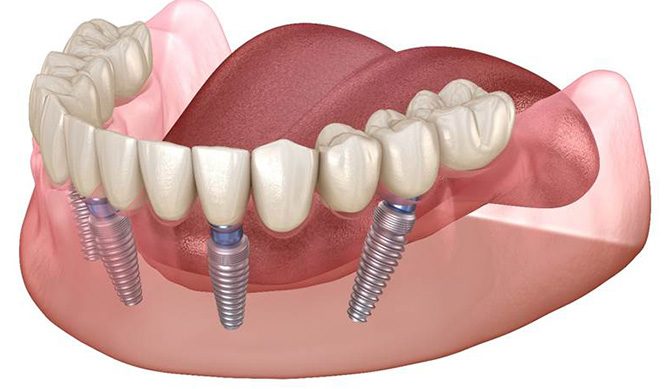 The concept behind All-On-4/Pro Arch dental implants is relatively simple. Four to 6 dental implants are placed into the jawbone, and these are immediately topped with a temporary full denture. The implants themselves are positioned in such a way that they take advantage of the natural contours of the jawbone. Two to four implants are placed towards the front, where the bone is usually thicker, and two others are located towards the back on both sides at an angle so they can provide maximum retention and support for the new teeth. The actual number of implants required will be determined by Dr. Lorenzana in cooperation with your dentist.
Am I a Candidate for All-On-4/Pro Arch Dental Implants?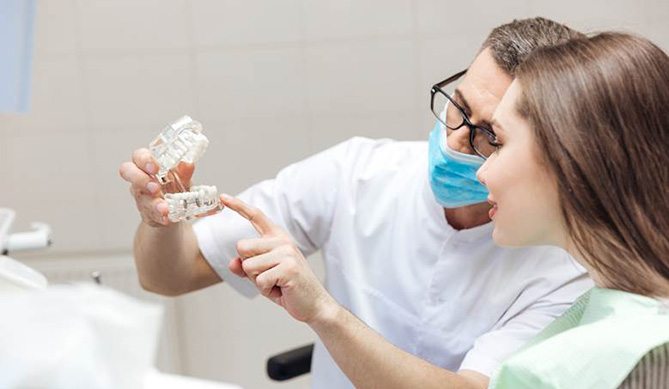 Dr. Lorenzana usually recommends All-On-4/Pro Arch implants for patients who are missing all of their teeth, only have a few teeth left on the top or bottom, or they have a full denture that frequently moves and causes discomfort. It's also ideal for patients who want to get dental implants without undergoing a bone grafting procedures to build up the jawbone, as the treatment is designed to make the most of a patient's existing oral structures.
All-On-4/Pro Arch vs. Traditional Dental Implants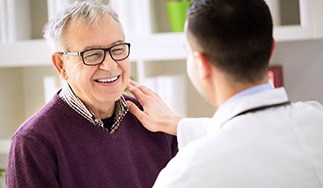 One of the key differences between All-On-4 implants and regular ones involves the size of the posts themselves. All-On-4 implants tend to be larger compared to traditional ones, and this is partly what enables such a small number of implants to provide a strong foundation for a full row of teeth. (Typically, six to eight regular implants are needed to support a denture.) And, while normal dental implants are usually placed along the entire jawbone, All-On-4 implants are only placed into strategic locations where the bone is naturally thicker. This not only ensures that the new teeth will remain stable, but like we touched on above, this approach also allows many patients to get dental implants despite suffering from bone loss in the jaw.
What Are the Benefits of All-On-4/Pro Arch Dental Implants?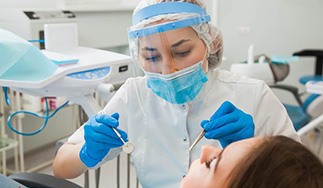 Speed: Most dental implant procedures take months to complete, but with All-On-4, a patient can walk out of our office with brand new teeth in a matter of hours.
No Bone Grafting: Patients with longstanding tooth loss often have thin or brittle jawbones that can't support regular implants. Usually, a bone graft would be used to correct this. With All-On-4, however, a bone graft usually isn't necessary, helping a patient save time and money while rebuilding their smile.
Peace of Mind: All-On-4 implant dentures look and feel much more natural compared to regular removable dentures. With them, whenever a patient takes a bite of food, speaks, or smiles at loved ones, they never have to worry about their teeth moving or shifting unexpectedly.
Cost of All-on-4 Dental Implants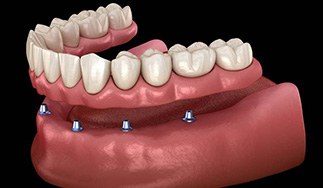 When it comes to the cost of All-on-4 dental implants, you'll need to keep in mind that it can vary greatly depending on your needs. Once we have completed a detailed examination of your mouth and essential oral structures, we'll break down how much your treatment will cost overall. Keep in mind that All-on-4 treatment is extremely comprehensive, long-lasting, and a much more effective solution for severe tooth loss compared to traditional dentures and implant-retained dentures.
Learn more about the cost of All On 4
All-on-4/Pro Arch Dental Implants FAQs
Are you interested in rebuilding your smile in a single day? Dr. Lorenzana and our team are ready to help! However, before you contact us to schedule your consultation, you may want to learn more about All-on-4 in San Antonio and what you can expect from the treatment process. That is why we have compiled the following brief list of FAQs. If you don't see the information you were hoping for, we are ready to personally answer your questions.
Is It Painful to Get All-on-4 Dental Implants?
Dr. Lorenzana and our team place a high priority on patient comfort. We have numerous sedation options available to help you stay calm and relaxed during your implant placement surgery. Following the procedure, some soreness is normal. However, as long as you are diligent about following postoperative instructions, you can expect a smooth recovery process. Most patients are able to go back to work within a day or two of their surgery.
How Long Does the Overall Process Take?
You'll get your dental implants and a set of provisional (temporary) teeth in a single appointment. However, the overall All-on-4 process involves much more than that. To ensure that you experience the best results possible, you will need to attend an initial consultation. You may also have to have your remaining natural teeth extracted prior to your implant surgery. After you receive your implants, you may have to wait several months before you can replace your provisional denture with a permanent one. When you visit us to discuss your treatment, we'll be able to give you a firmer idea of your overall treatment timeline.
Does Insurance Cover the Treatment?
Dental insurance policies vary greatly, especially when it comes to things like dental implants and Teeth in a Day in San Antonio. Our team will help you figure out how your policy may apply and how you can use it to your greatest advantage. If your dental insurance does not cover dental implants, it is worth checking to see if your medical insurance might cover them.
Will My New Teeth Be Removable?
All-on-4 dentures are designed to be permanently attached to the dental implants that support them. This is a convenient feature that enables you to care for your new smile almost as if it were your natural teeth. The only time your prosthetic will be removed is when you visit your dentist. Your dentist, or a member of their team, will carefully remove your prosthetic teeth in order to ensure that it and your dental implants are as clean and functional as possible.