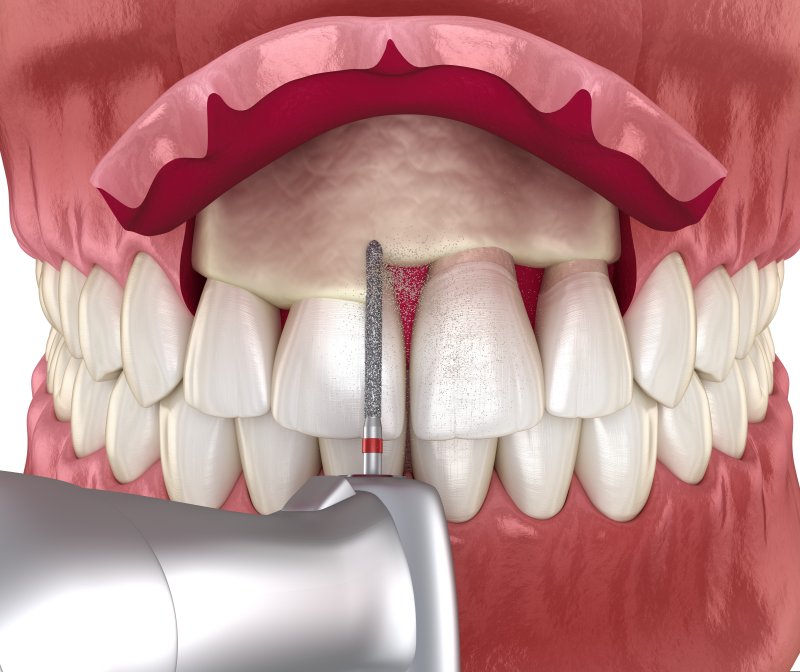 If an oral health professional tells you that you need a crown or a filling, you probably already know that it's to repair a damaged or decayed tooth. But what if they're recommending crown lengthening? What sort of problem is that meant to address? While the procedure is sometimes performed for cosmetic reasons, it can also be a necessary step in restoring your smile. Here's what you need to know about crown lengthening and why it might be needed.
What is Crown Lengthening?
Crown lengthening is a procedure where a small amount of gum and/or bone tissue is removed to expose more of your tooth's natural structure. Small incisions are made in your gums so that your periodontist can take away the unneeded tissue; the underlying bone may be reshaped as needed. This is a relatively simple procedure that can typically be completed in just 60 to 90 minutes. Depending on your situation, it might be performed on just one tooth or several teeth.
Why Do You Need Crown Lengthening?
For some people, having gum tissue removed to reveal more of their teeth is the solution for what's known as a "gummy smile." This condition refers to when an excessive amount of gum tissue is making your teeth look unusually small. Crown lengthening allows your periodontist to get rid of the tissue that's not needed to bring out the best of your smile.
That being said, sometimes crown lengthening is done for oral health reasons. If there's too much tissue covering a tooth, there might not be enough room to place a dental crown. By exposing more of the tooth's surface, the periodontist creates the room needed to place the restoration and restore the tooth.
How Do You Know If You Need Crown Lengthening?
The only way to know for sure if you need crown lengthening is to talk to a dentist or periodontist. They can determine whether a tooth needs repair as well as whether or not there's enough room to place a crown right away. Possible signs that you need crown lengthening include:
A tooth that broke off right at the gums.
A gum line that extends too far along the tooth.
A tooth that currently isn't strong enough to support a dental crown.
A previous restoration falling off and exposing decay underneath.
Remember that crown lengthening is typically recommended for restorative reasons. If you're thinking about using it as a cosmetic treatment, you'll need to let your dentist or periodontist know about the changes you want to make to your smile. Whatever your reason for having crown lengthening done, you can rest assured that it will prove beneficial for your grin and your overall quality of life in the long run.
About the Author
Dr. Eduardo R. Lorenzana is an experienced periodontist in San Antonio. He became Board-Certified by the American Board of Periodontology in 2001, and throughout his career, he has given lectures about a wide variety of periodontal topics. His practice, Lorenzana Periodontics, offers crown lengthening as both a cosmetic procedure and a way to create room in the mouth for dental crowns. To schedule an appointment, visit his website or call (210) 492-3519.