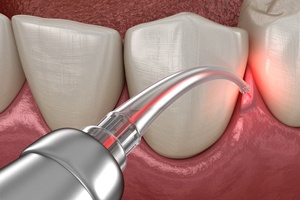 If you're ready to say goodbye to your gummy smile or repair damage caused by infection, gum recontouring may be the solution for you. Laser dentistry can remove excess or compromised tissue using a less invasive method than a scalpel and sutures. You'll enjoy unmatched precision and a shorter healing process that has few risks of complications. Here's what you can expect when recovering from gum recontouring in San Antonio.
Enhance Your Smile with Gum Recontouring
Gum recontouring provides both restorative and cosmetic benefits. A highly concentrated beam of light energy targets soft tissue to reveal more of a tooth's surface. This can be used to resolve a gummy smile or expose more of the tooth to place restorations, like a crown. The versatile procedure can treat gum disease or fix an uneven gum line. No matter the reason, you'll benefit from improved accuracy, a quicker recovery, and fewer post-op complications.
Recovering from Laser Gum Recontouring
Everyone heals differently, but most patients recover in 7-10 days. You can ensure nothing delays your road to recovery by following 4 tips recommended by your periodontist in San Antonio:
1. Maintain Your Oral Hygiene
You must keep your mouth clean to prevent infections but brush and floss cautiously. Be as gentle as possible to avoid injuring the healing tissue. Your periodontist may also recommend using a mouthrinse to combat bacteria; however, choose one that's alcohol-free. You can also use a saline solution to remove food particles and bacteria if you can't get to your toothbrush after eating.
2. Manage Your Discomfort
Your gums may be a little tender for a few days. An OTC pain reliever will keep you comfortable but avoid anything containing aspirin. You'll notice slight scabbing as your gums heal, which will fall off naturally in a few days.
3. Skip Spicy or Crunchy Food
Spicy and crunchy foods can irritate your gum tissue. It's also best to avoid anything with seeds, including strawberries, kiwis, and poppyseeds because they can get trapped in your gums. For this reason, you'll also want to skip popcorn for a couple of weeks after gum recontouring in San Antonio. Instead, eat softer foods, like pasta, yogurt, and eggs.
4. Limit Your Physical Activity
Although you can resume your normal activities immediately after the procedure, your periodontist will advise you to skip any strenuous exercise. It will increase your blood circulation, which can cause bleeding. While you'll have to skip the gym for a bit, you'll heal quicker to get back to your exercise routine sooner.
As each day passes, your mouth will heal to enjoy the beautiful, healthy smile you deserve without the hassle of a long recovery.
About Dr. Eduardo R. Lorenzana
Dr. Lorenzana continued his education to specialize in periodontics after earning his dental degree. He is certified in periodontics and earned his Master's in Oral Biology. He combines his training and qualifications with state-of-the-art technologies and techniques to deliver advanced care. If you're interested in gummy smile correction in San Antonio, contact our office today to schedule your consultation.