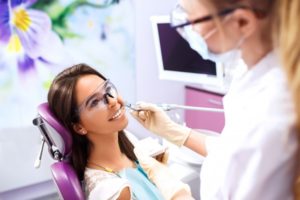 A confident, attractive smile can do wonders for your social, romantic, and professional life. That's why so many people turn to dentists or orthodontists to fix discolored or crooked teeth. But what if the problem with your grin isn't with your teeth, but with your gums? Even a perfect set of pearly whites can be marred by a smile that's too "gummy." A periodontist – or gum specialist – can often fix gummy smiles, but you might be worried about whether the procedure is safe. Here's what you need to know about gummy smile correction.  
But First, What Exactly Is Gummy Smile Correction?
Also known as "gum recontouring," gummy smile correction is essentially the process of making an uneven gumline look more uniform. The periodontist uses either scalpels or lasers to carefully remove the excess gum tissue. Your mouth will likely be numbed with a local anesthetic beforehand, so the procedure shouldn't be painful.
With that being said, you can expect some residual soreness for a few days afterward. In most cases, over-the-counter pain medicine is more than enough to manage this discomfort. Overall, the process of recovering from gummy smile correction is generally fast, and your gums should be completely healed within a few weeks.
Is Gum Recontouring Safe?
As with any type of oral surgery, there are certain risks associated with gum recontouring. While the odds of post-op complications are quite low, you should be aware of some of these risks, which include:
The gum tissue that is being removed might grow back at some point. In that case, the procedure would need to be redone.
Some patients have an allergic reaction to the anesthetic used to numb the mouth.
You may experience swelling and bleeding in your gums following the procedure.
If you have a generally slow healing rate, you may have a heightened risk of infection after gum surgery.
Before your procedure, your periodontist will evaluate your mouth and minimize the chances of any negative consequences occurring.
Consult with a Periodontist Today!
Keep in mind that any risks with gummy smile correction are low. When you visit an experienced periodontist, you can trust that your smile is in good hands. After all, they've completed advanced specialty training in gum treatments.
If you're looking to fix your gummy smile, visiting a periodontist is the smartest thing you can do. They'll use the latest techniques and technology to give you an even, beautiful grin as safely as possible.
About the Author
Dr. Eduardo R. Lorenzana is a board-certified periodontist with nearly 25 years of experience in the field of dentistry. His incredible attention to detail, as well as his dedication to keeping up with leading-edge periodontal technology, means that when you visit him for gummy smile correction in San Antonio, you can rest easy knowing you're getting truly expert care. If you'd like to fix your gummy smile, contact the team at Lorenzana Periodontics at 210-492-3519.