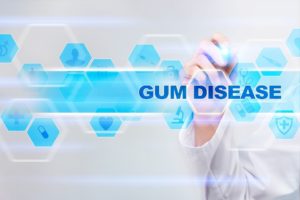 You know various health conditions can run in your family, like asthma, heart disease, or diabetes. Did you know genetics can also affect your smile? Besides contributing to the color, size, and positioning of your teeth, genes play a role in your gum health. Research has found a connection between genetics and gum disease in San Antonio. With the infection linked to tooth loss and many serious health issues, your gum health is more important than ever. If your family has a history of periodontal disease, brushing and flossing may not be enough to safeguard your smile, but don't worry. Your periodontist has the solutions you need.
What is Gum Disease?
Gum disease is a preventable infection affecting at least 50% of adults. It's caused by bacteria found in plaque and tartar buildup from inadequate oral hygiene habits. Although it is easy to treat, many people ignore the early signs of the infection. Without prompt treatment, it can destroy the supporting structures of your teeth, making it the leading cause of tooth loss. Unfortunately, the complications don't end there. The infection can enter your bloodstream, increasing your risk of numerous health conditions, like cardiovascular disease, Alzheimer's disease, respiratory illness, and diabetic complications.
What Causes Gum Disease?
Gum disease can be caused by both hereditary and hygiene factors. A specific gene called beta-defensin 1 aids your smile's defense against harmful pathogens. If the gene is deficient in your family genes, you can be prone to certain dental issues, like cavities and gum disease.
Although you can't change your DNA, you can control other factors that contribute to gum disease, like your dental hygiene, smoking, and routine cleanings and checkups. Even if the infection doesn't run in your family, your periodontist recommends taking certain precautions to avoid needing gum disease treatment in San Antonio.
How Can I Prevent Gum Disease?
You can help keep gum disease at bay with a solid oral hygiene routine. Use a soft-bristled toothbrush and fluoride toothpaste to clean all surfaces of your teeth for at least 2 minutes in the morning and at night. Use high-quality dental floss to clean between each tooth daily and add a mouthrinse to your routine. Eat a healthy diet that's limited in sugars and starches to reduce harmful oral bacteria. You should also avoid anything that compromises your body's ability to heal and fight infections, like smoking or heavy alcohol consumption.
Besides caring for your smile at home, don't forget to visit your dentist at least twice a year for a cleaning and checkup. If they spot any concerns about your gum health, they'll refer you to a periodontist to stop the infection and save your smile.
About Dr. Eduardo R. Lorenzana
Dr. Lorenzana earned his dental degree from the Baylor College of Dentistry before continuing his education to earn his Certificate in Periodontics and Master's in Oral Biology. He is Board-Certified by the American Board of Periodontology. If you have red, swollen, or bleeding gums, don't wait. Contact our office today to schedule your consultation for periodontal therapy.