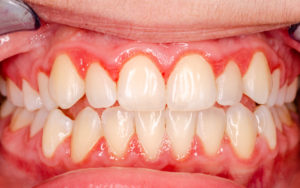 When you smile in the mirror, do you notice your gums more than your teeth? A gummy smile can appear unattractive and lower your self-esteem. However, having overgrown gums does not just affect your appearance. Excessive gum tissue can also put you at a higher risk of serious oral health issues, such as gum disease. Fortunately, a periodontist in San Antonio can help! Keep reading to discover how. 
What Causes Gum Overgrowth?
Gum overgrowth, also known as gingival hyperplasia, is a condition in which a person's gum tissue grows excessively. Gingival hyperplasia can range in severity, from one small protruding bump to gums that almost completely cover a tooth or multiple teeth.
There are several common causes of gum overgrowth:
Gum Disease – Your gums may inflame and become bright red as a response to plaque accumulation. If gum disease is caught early on, it can be reversed with diligent brushing and flossing and regular trips to a periodontist.
Medications – Certain prescription drugs, including medication to prevent seizures, manage heart conditions, or lower the body's immune system activity, have been found to cause gum overgrowth as a side-effect.
Genetics – Hereditary gingival fibromatosis is a rare genetic condition that causes gum overgrowth.
Systemic Health Conditions – Leukemia, pregnancy and other hormonal fluctuations as well as other chronic health conditions may also cause gum overgrowth.   
The Impact of a Gummy Smile
The negative consequences of a gummy smile go beyond aesthetics. The excess gum tissue can be dangerous to your teeth, gums, and jawbone. Overgrown gums can trap tartar, bacteria and other irritants beneath the gum line, which can accelerate tooth decay and cause swelling and irritation. Over time, if gum disease develops and remains untreated, it can destroy the bone that supports your teeth. Gum disease has also been linked to serious diseases and conditions, such as diabetes, kidney disease, Alzheimer's, cardiovascular disease, and more.
How to Treat Overgrown Gums
Because there are different causes of gingival hyperplasia, there are several methods of gummy smile correction in San Antonio. If your gum overgrowth is a result of gum disease, diligent brushing and flossing at home paired with a professional cleaning from a periodontist can help.
You can also talk with your dentist about the medications you are currently taking. If one of them is causing gum overgrowth, finding an alternative medication may relieve your symptoms. Treating systemic conditions that contribute to gum overgrowth should also reduce excessive gum tissue.
Finally, if your overgrown gums are due to genetic factors, talk to your periodontist about crown lengthening. This common surgical procedure is designed to remove excess gum tissue and make teeth appear longer.
If you're experiencing gum overgrowth, don't wait to seek professional help to restore the appearance and health of your smile. With a periodontist, you can ensure your smile looks and feels great!
About the Author
Dr. Eduardo Lorenzana has over 20 years of experience helping San Antonio patients maintain healthy, attractive smiles. A board-certified periodontist, he has been voted a Texas Monthly Top Periodontist and Implant Surgeon by his colleagues every year since the inception of the award. To learn more about gummy smile correction in San Antonio, visit the Lorenzana Periodontics website or call 210-492-3519.