Process of All-on-4 Dental Implants – San Antonio, TX
Learn How Your
New Smile Is Placed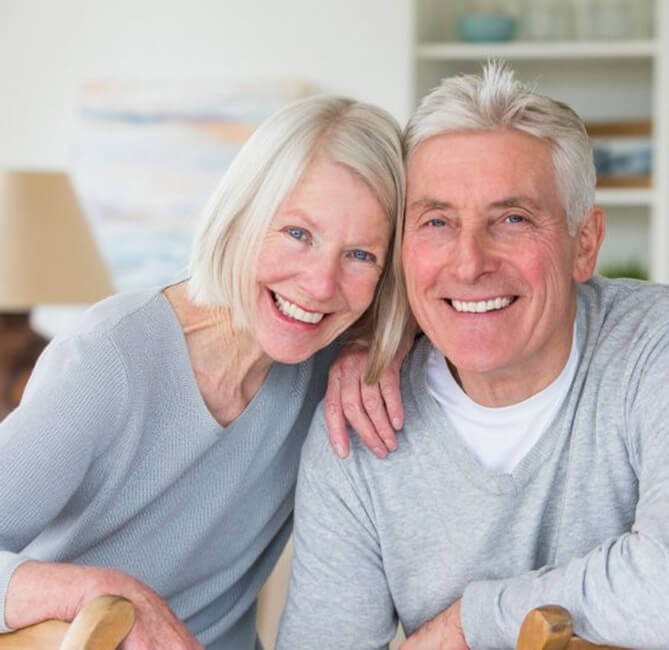 If you're missing all of your teeth, you don't actually have to get a dental implant placed in the places where each individual tooth once was. Instead, we can strategically place four to six implants throughout each arch to provide enough support for a full denture. Known as All-on-4 or Teeth in a Day, this procedure is rapidly growing in popularity, and for good reason. When compared to traditional dentures alone, All-on-4 in San Antonio offers unmatched stability and comfort. However, you may be a little curious as to how exactly the procedure works. To find out, keep reading below, or give us a call and ask!
Initial Consultation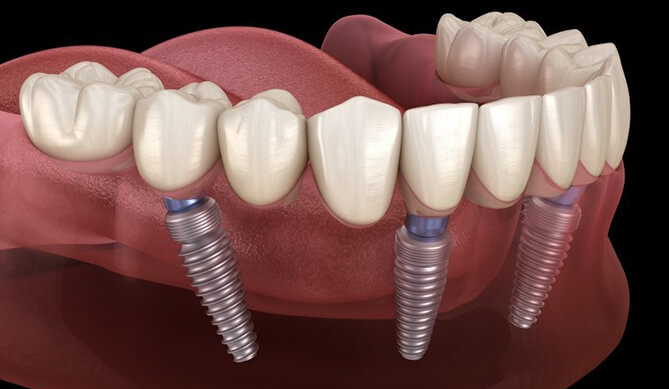 Your journey to a more complete smile begins with a consultation with our periodontist, Dr. Eduardo Lorenzana. After taking some time to talk to you about your smile goals, he'll take detailed x-rays of your mouth to evaluate the health of your oral structures, including your jawbone and any remaining teeth. Using 3-D imaging technology, we can create a precise model of your mouth. This will be used to determine where exactly your implants should be placed to provide maximum support for your new teeth.
During this appointment, we'll also discuss your health history, as well as a detailed treatment timeline and cost estimate. From there, you can schedule your first of a few visits needed to receive your Teeth in a Day in San Antonio.
First Surgery: Extractions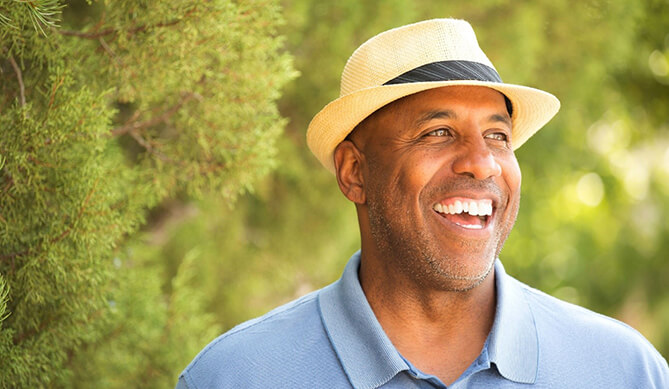 The first step to prepare your mouth for All-on-4 is to remove any remaining natural teeth to make room. While implants can occasionally be placed at the same time as your tooth extractions, in most cases you'll have to wait for the mouth to heal first.
Sometimes, the jawbone is too thin to support implants, or the sinus cavity is simply in the way. If this is the case, we may need to perform a bone graft or a sinus lift. These procedures typically require several months of healing before implants can be placed.
Second Surgery: Implant Placement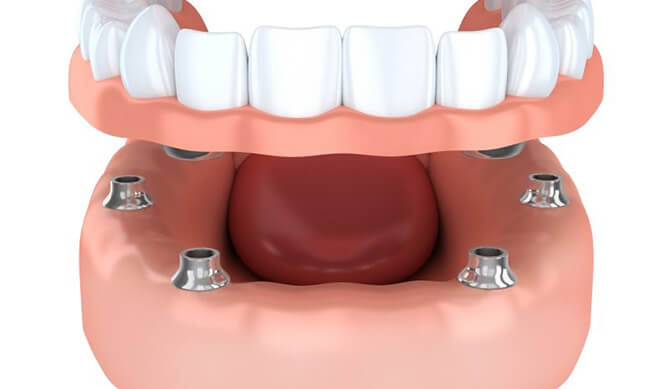 Using the 3-D impressions and x-rays, we took at your consultation, we surgically placed your implants directly into your jawbone. Don't worry; you'll be numbed up beforehand with plenty of local anesthetic and likely even be given sedation to soothe your nerves.
After the implants have been placed, you'll be instructed to wait three to six months while the titanium posts become one with your jawbone in a process called osseointegration. During this time, we can place a temporary denture so that you don't have to go a day without teeth.
Placement of Permanent Restorations
After osseointegration is complete, we can place abutments on top of your implants. Abutments are little metal connector pieces onto which we can then anchor your permanent denture. From there, you can simply take care of your new teeth as if they were the ones you were born with: with regular brushing, flossing, and checkups with your dentist.