Dental Implant Frequently Asked Questions – San Antonio, TX
Quick Answers For Your Implant Questions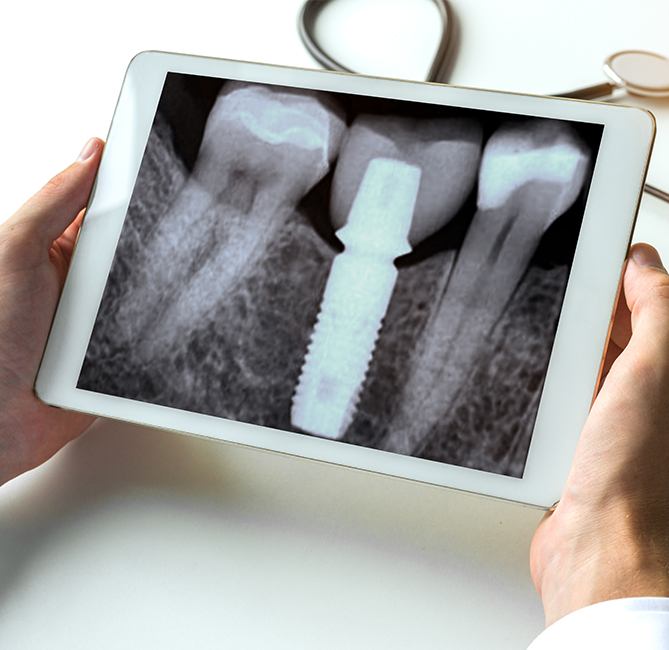 Dental implants have quickly become the most popular method of replacing missing teeth around the world, so it's no surprise if you're considering them to finally fill in those gaps in your smile. To get some quick information about the treatment, you'll find answers to some of our dental implant frequently asked questions below. If there is anything else you want to know about them, be sure to give us a call and ask us about anything!
What are dental implants?
A dental implant is a small titanium and zirconium post that is placed into the jawbone to recreate the root structure of a missing tooth. After it has bonded with the surrounding bone, it's topped with a crown, bridge, or denture to restore the visible portion of the tooth/teeth. Right now, dental implants are the only treatment that brings back an entire tooth from top to bottom.
Are dental implants better than traditional bridges/dentures?
When it comes to aesthetics, durability, and longevity, dental implants leave every other kind of tooth replacement far behind. The materials used to make them are extremely high-quality and strong, and because they replace the whole tooth and sit within the jawbone, they are able to last multiple times longer than your typical bridge or denture as well. Basically, with implants, it doesn't feel like you've replaced your teeth, but that you've gotten your natural teeth back.
How long does it take to get dental implants?
The timeline for implant treatment can vary quite a bit from patient to patient depending on their particular needs. For example, a patient replacing just one tooth who has healthy, abundant bone may be able to complete the process in as little as 6 to 8 weeks. But, for someone who needs all of their teeth replaced and/or bone grafting and periodontal therapy, it may take 12 weeks to a year. Dr. Lorenzana can go over what your specific timeline will look like during a one-on-one consultation so you'll know exactly what to expect.
What is the dental implant procedure like?
While each patient's dental implant experience is slightly different, the entire process can be broken down into two basic phases. The first is called implant placement, in which the new tooth roots are surgically placed into the jawbone by Dr. Lorenzana. Over the course of a few weeks, the mouth heals, and the implants bond to the jawbone through a process called osseointegration. Once this is complete, the patient will return to their dentist so their new crown, bridge, or denture can be attached to their implants.
Does getting dental implants hurt?
Not with Dr. Lorenzana! Thanks to his decades of experience as an implant specialist and use of the latest techniques, our patients report feeling a little pressure during the implant placement procedure, but nothing that resembles pain. Like with any type of oral surgery, a little bit of swelling and tenderness is common afterward, but these symptoms are usually minor and can be managed with an OTC medication.
How much do dental implants cost?
The cost of getting dental implants will be different for each patient depending on their situation. In general, the more implants a patient needs/wants, the more expensive the procedure. Thankfully, implants are widely considered one of the best investments in all of dentistry, as they have been shown to last for 30+ years on average (regular bridges/dentures typically have a lifespan of seven to ten years).
Why should I visit a periodontist to get dental implants?
A periodontist is a type of dental specialist who has completed at least 3 years of additional training after completing dental school. A big part of this training is focused on dental implant surgery and bone grafting techniques. Compared to a regular dentist, a periodontist will have much more experience and skill when it comes to placing dental implants, leading to a more comfortable procedure as well as a much higher rate of success. When placed by a board-certified periodontist like Dr. Lorenzana, implants have an impressive 98% success rate.